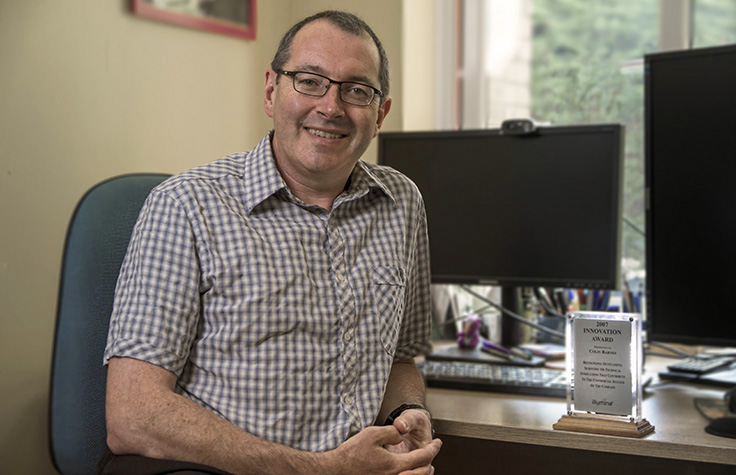 10 August 2022
It's difficult to imagine a world where sequencing doesn't exist. Yet just a few decades ago it was a highly specialized, exclusive operation performed by just a few people on the planet. It would take many great minds, and many advances, to improve the method and scale the practice of what is now being executed in tens of thousands of labs around the world. From his office near Cambridge, Dr. Colin Barnes, 50, recalls how the SBS technology behind today's Illumina instruments began as just a kernel of an idea half a lifetime ago.
In the summer of 1997, Barnes was a new postdoctoral researcher at the University of Cambridge. Two Cambridge academics, Shankar Balasubramanian and David Klenerman occasionally had group meetings at the Panton Arms, a pub near the chemistry department. In one of these group meetings, Barnes and fellow postdoc Mark Osborne were present, and in what can now be seen as an historic brainstorm, discussed a method of sequencing that would prove to be faster and far more cost-effective than other sequencing methods (at that time, the Human Genome Project had been in progress for seven years and would not be completed for another six, at a total cost of about US $3 billion; by 2020, Illumina had reduced the cost of sequencing a human genome to approximately $600).
In 1997, all commercial sequencing was performed using gel electrophoresis to separate oligonucleotide fragments by their length. Barnes's recently completed PhD in nucleic acid chemistry prompted a discussion at the Panton about using labeled nucleotides having a chemically reversible terminator and doing cycles of sequencing adding one base at a time to grow immobilized strands. Over the coming years, the method became widely known as sequencing by synthesis (SBS), a next-generation sequencing technology that uses imaging to detect single bases as they are successively incorporated in parallel into millions of growing DNA strands. Barnes started experiments in 1997, and the following year, the group founded Solexa Ltd. As a co-founder, Dr. Barnes contributed to the development of Solexa's SBS method and was an inventor on the earliest Solexa patents. The company left the Cambridge chemistry department in 2000 for its own premises, with Drs Barnes and Osborne employees number one and two.
In 2006, San Diego-based Illumina acquired Solexa. Through 2010 as an Illumina employee, Dr. Barnes continued to contribute to the development of the SBS method. According to Barnes, "taking an idea from conception through fundraising and developing a working commercial system with such a talented group of individuals was an immense privilege. The research went in ways we never predicted initially, but that's part of the enjoyment of science."
Today, Illumina's Research & Development team has grown to more than 2,000 people. The company runs an inventor recognition program for its employees, including the annual innovation award which Dr. Barnes won in 2007. The company also boasts a higher-than-average Women Inventor Rate and, in the US, celebrates National Inventors Day. Barnes's 2007 innovation award sits on his desk at home. His advice to young scientists is to enjoy the journey and see where it takes you. "Research doesn't always work in the way you would hope, but you should view the struggle as training for spotting the promising opportunities," Barnes says.
Dr. Barnes is now a successful patent attorney in Cambridge and is a named inventor on more than 50 European and US patents relating to his work at Solexa and Illumina. This year marks the 25th anniversary of Solexa's founding, and we're raising a pint to innovation, collaboration, and the cascade of patents that followed from a memorable night at the Panton.