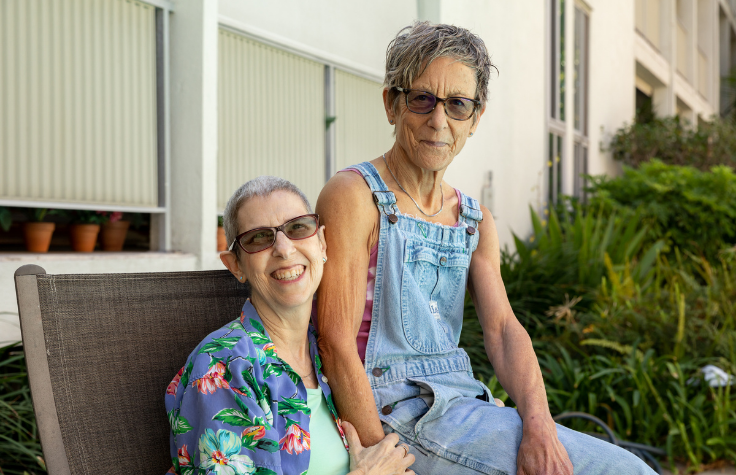 21 September 2021
"Growing up, I had a fear of being broadsided. The idea of an out-of-nowhere collision that might kill or maim me was terrifying. I grew out of this fear and while I've never been in that kind of accident, I have been repeatedly broadsided by cancer for the past 11 years."
Michelle Mindlin, a resident of Southern California, was 55 years old when she received the call from her doctor. While waiting to decide on having a planned, routine hysterectomy, Michelle developed a cyst on her right ovary. In consultation with her doctor, they made the decision to remove her ovaries as well as her uterus. The biopsy of the cyst was malignant and ovarian cancer was the diagnosis.
The initial treatment was basic standard-of-care chemotherapy. After six years in remission, Michelle had her first recurrence, which was again treated with chemotherapy, as well as targeted radiation. That began a cycle of treatment, remission, then reoccurrences over the span of several years. Finally, Michelle was placed into a clinical trial of targeted immunotherapy treatment. While initially her tumor was sequenced for basic markers such as the BRCA gene, it wasn't until a few years later that she learned just how much more information she could glean from a testing approach called Comprehensive Genomic Profiling (CGP).
"People and doctors are always telling you what to do or what you should do, but you don't grasp the significance of it at the time," notes Michelle.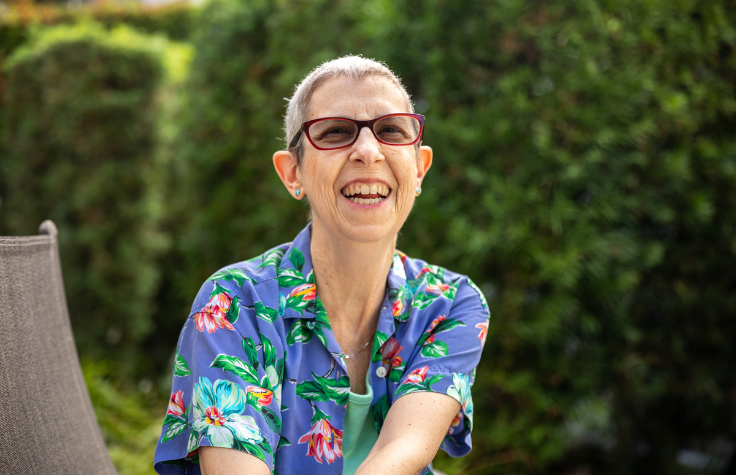 Making the tumor your friend
Michelle's wife, Denise McCanles, had been casually researching clinical trials for a while. After helping her wife through the impact of treatments, and seeing her through several remissions, it was hard for Denise to just be there and have no control over the situation. "I've shared my life with Michelle for decades, there was no way I was going to live without her," says Denise. That's when Denise decided to take control of the situation as best she could. She set up Google alerts to notify her when any news of ovarian cancer was mentioned, waiting for the next finding or trial that would save Michelle.
"I got to know her tumor, and even though it was actually my nemesis, I made it my 'friend.' I would just call up scientists and researchers whose therapies sounded promising," says Denise. "I was an advocate for Michelle, asking the questions and helping her with the decisions. Many people are scared of clinical trials, but they are great and you have more access to medications and monitoring than you normally would."
Michelle was chosen for a promising targeted immunotherapeutic trial. While the trial was successful at first for Michelle, unfortunately it wasn't for the majority of the other patients in the trial. And as the trial ended and the medication was running out, they found that Michelle was no longer responding to the treatment.
"As this trial faded away, we needed to look at other options. That's when we asked about comprehensive genomic profiling."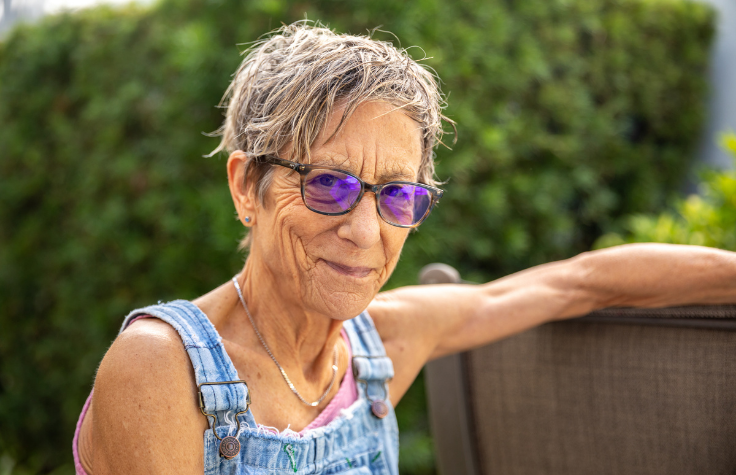 Advocacy and scientific advancement
Denise's continued research and diligence brought the couple to the Clearity Foundation and then, to the world of comprehensive genetic profiling. The science behind tumor profiling is evolving quickly and wasn't an option when Michelle was first diagnosed. After speaking with the Clearity Foundation, they learned more about the value of whole-genome sequencing and what it could mean for them.
Founded in 2008, Clearity Foundation seeks to revolutionize ovarian cancer treatment. Clearity takes a comprehensive, hands-on approach to help women identify the treatments that may work best against their unique disease. Assessing their medical history, as well as tumor molecular profiles and other diagnostics, Clearity professionals help women and their physicians identify optimal treatment options based on the latest science and research. Clearity's Tumor Profile Reports are geared toward helping patients and caregivers understand a tumor's molecular characteristics. That information can then point to therapies and trials that may have the best chances for positive outcomes.
"Cancer research has come a long way since Michelle's first diagnosis 11 years ago," says Hillary Theakston, Executive Director of the Clearity Foundation. "By providing access to the latest research and science on ovarian cancer, Clearity has become a trusted source of hope for women and caregivers. The science is not always easy to understand, which is why organizations like ours are helpful—understanding your options and being able to make more knowledgeable treatment choices can be the key to a better outcome."
Combining comprehensive genomic profiling with companion diagnostic tests is key to understanding a patient's cancer and finding the right course of treatment.
With cancer, knowledge is power
"What has saved me is that I've paid attention to my body and what it's telling me—and in turn I'm telling the doctors," says Michelle. "Many people don't want to know things, but I'm the opposite—I want to understand everything. With cancer, and in general, I believe knowledge is power."
Michelle's CGP lead to her latest trial for a drug that has primarily been used for breast cancer. Through the profiling, they found that one of her genetic markers is showing great results when treated with a specific drug—a drug that her doctors decided against earlier in treatment since she didn't have the BRCA gene.
"Combining comprehensive genomic profiling with companion diagnostic tests is key to understanding a patient's cancer and finding the right course of treatment," says Phil Febbo, Chief Medical Officer of Illumina. "The future of cancer care is personalized not for the tissue of origin of the cancer, but in the biomarkers of the patient's tumor. Illumina is making great strides at developing assays that will make a real difference for patients."
As for Michelle, she and Denise are not sure if the new trial is helping or what the long-term impact will be, but that doesn't dissuade them from trying.
"No matter how hard it's been, I feel lucky. Each treatment, each trial, it's kept me alive that much longer and given me time I wouldn't have had otherwise. Time for research to come out and new advancements to be made. Time that could save my life."
September is Ovarian Cancer Awareness Month. Illumina's mission to improve human health by unlocking the power of the genome extends to sharing stories such as Michelle and Denise's and highlighting the work of foundations such as the Clearity Foundation. Illumina is proud to support the Clearity Foundation through donations and providing information on the organization.