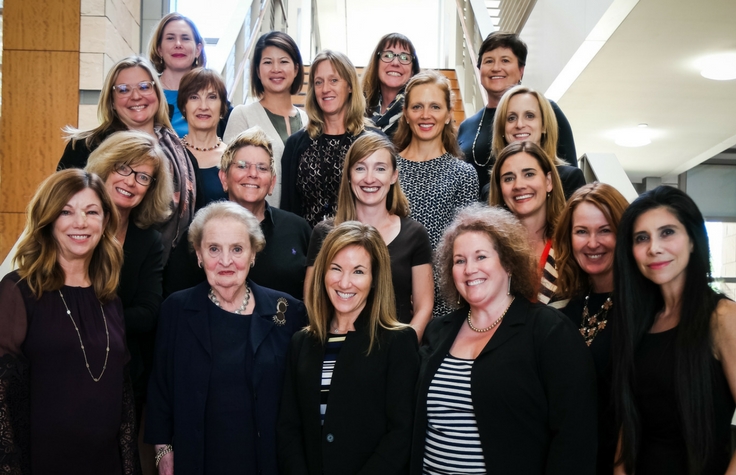 8 March 2018
By: Karen Possemato, Vice President of Global Marketing and Communications at Illumina
For well over a century, International Women's Day has been a collective day of celebration and recognition for the social, economic and cultural contributions of women around the world. The women's movement has come a long way, but there is still more improvement needed to uphold women who have pushed for progress in the fields of science and engineering. Today, we honor and celebrate the incredible accomplishments and tremendous progress women have made in these important fields.
As Illumina prepares to celebrate its 20th anniversary, we are recognizing the impact and contributions of Women in Genomics. We have created a limited edition bracelet featuring the double helix that is individually gifted to women making an impact. The Women in Genomics bracelet is an elegant, visible token of appreciation presented in-person by an Illumina leader. Recipients have contributed to genomics scientifically, from a leadership position, through mentoring or teaching, or by serving as a genomics advocate in their community.
First Recipient
I had the distinct honor to bestow the first bracelet to Secretary Madeleine Albright, the first female U.S. Secretary of State, on October 13, 2017, at Illumina's headquarters in San Diego. During her visit, her wit, wisdom and encouraging words inspired us on our mission to have a positive impact on human health.
Secretary Albright said, "Each disease conquered by your learning, each child saved by your healing and each life enriched by your caring helps to expand upwards the boundaries achieved on this earth. For no matter what challenges are facing us in the world, companies such as Illumina are showing us that progress is possible and that technology can be used for the benefit of all."
Honoring Illumina's Female Leaders
Proud recipient of a Women in Genomics bracelet, Susan Tousi, Illumina's most senior female technical executive, was recently elected to the National Academy of Engineering (NAE). Election to NAE is among the highest professional distinctions awarded to an engineer. At the grand opening of the Illumina Solutions Center in Évry, France, Susan honored Paula Dowdy, Senior Vice President and General Manager for Europe, Middle East, and Africa with a Women in Genomics bracelet. Together, Susan and Paula are working tirelessly to foster in a new era of genomic advancements globally.
Women Advancing Genome Biology and Technology
Since its inception, Illumina has been a proud supporter of the Women in Genomics networking session at the Advances in Genome Biology and Technology (AGBT) conference. The event encourages interaction between early in career scientists and senior genomic leaders. At this year's 2018 conference, members of Illumina presented the following recipients with bracelets:
Beth Shapiro, Professor of Ecology and Evolutionary Biology at the University of California, Santa Cruz
Elaine Mardis, Professor of Pediatrics at Nationwide Children's Hospital in Columbus, Ohio, and is co-executive director of the Institute for Genomic Medicine
Leisa Zigman, President of The Genome Partnership, a non-profit working in the genomics field
Orli Bahcall, Senior Editor at Nature
I am thrilled to be a part of a company and culture that recognizes the contributions of all its employees and partners. Through the Women in Genomics bracelet program, I have had the opportunity to honor some amazing women for their contributions, commitment and leadership and it has been an incredible experience.