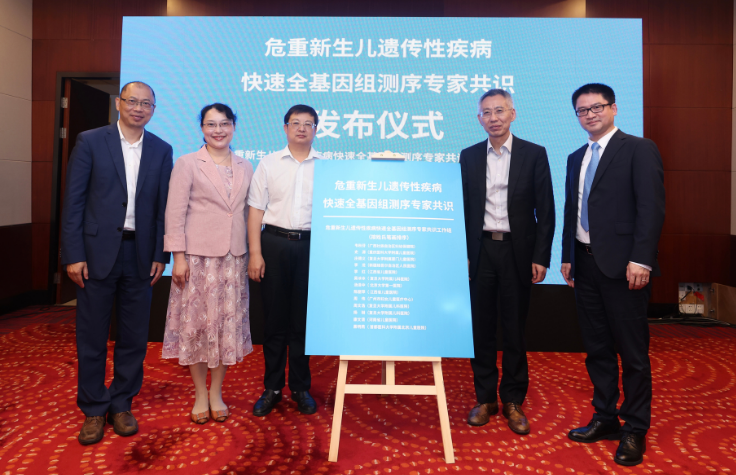 28 July 2021
There are nearly 7,000 types of rare diseases, and about 80 percent of them are caused by genetic mutations. "Compared with common diseases, rare diseases are difficult to diagnose from the very beginning," says Yiou Wang, Founder of the Illness Challenge Foundation. "Diagnosis is the first step in the patient journey, but it's a key step to identify the direction."
Since the early symptoms of these diseases are often atypical, arriving at a diagnosis often requires multiple examinations and appointments with specialists. It can take years, placing a heavy mental and financial burden on the children and their families.
Whole-genome sequencing (WGS), which offers the highest likelihood of finding a diagnosis—often within a matter of weeks—is not widely adopted at medical institutions in China, and requires clinicians with a certain knowledge base. A 2018 survey by Illness Challenge Foundation and China Social Assistance Foundation showed that nearly one-third of Chinese physicians had a poor understanding of rare diseases. Currently in China, there is no universal clinical guidance for sequencing rare diseases. But that's about to change.
The Rare Disease Symposium on Collaboration and Communication is an annual event held every summer in Beijing. At this year's symposium, the Children's Hospital of Fudan University presented the first Expert Consensus on Rapid Whole Genome Sequencing of Critical Genetic Diseases in Newborns in China (The 'Consensus'), sponsored by Illumina. The aim of the paper was to identify and recommend new protocols, standards, and norms for leveraging WGS to advance the diagnosis and treatment of rare diseases in children. The Consensus could help more physicians follow precise procedures, enabling a faster and more accurate genetic diagnosis.
Vice President Wenhao Zhou and Vice Director Bingbing Wu of Children's Hospital of Fudan University recorded and synthesized the experiences of 13 experts at 11 hospitals across China in order to co-draft The Consensus.
"The Consensus brings together insights from many medical institutions and experts, and it's a complete summary of the clinical practice of rapid, whole-genome sequencing for critical genetic diseases in newborns in China," says Zhou. "I believe that the Consensus will play a very positive role in addressing the challenging situation that many children with rare diseases and families in China face when seeking medical treatment."
"Rapid whole-genome sequencing is one of the important tools for diagnosis of rare and genetic diseases, as it transforms the lives of many patients and their families," says Brian Wang, Marketing Director at Illumina Greater China. "For Illumina, rare genetic diseases have always been an important focus in China and globally. We hope to cooperate with all parties to unleash the huge potential of whole-genome sequencing."
The following video, "Seeking," profiles two families that benefited from WGS. The video was produced by Illness Challenge Foundation.