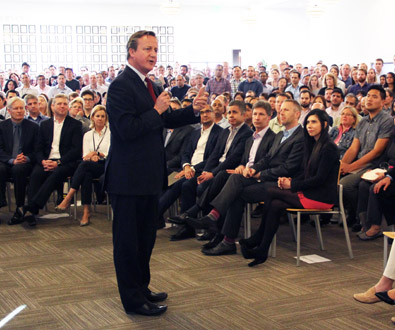 3 February 2017
David Cameron, Prime Minister of the United Kingdom from 2010-2016, visited Illumina's San Diego headquarters this week to share thoughts about the importance of genomics and continued investment in science and medicine.
Following an executive briefing and a tour of the headquarters facility led by President and CEO Francis deSouza and Executive Chairman Jay Flatley, Cameron hosted a town hall meeting with company staff. Speaking to a standing room only crowd, Cameron recalled his personal experience caring for his first son Ivan who suffered from Ohtahara syndrome and died in 2009. He recalled the lack of information genetic counselors could provide at the time about whether he and his wife were at risk for having future children with the condition as an example of why he made genomics research a priority in Britain.
"When I became Prime Minister, I thought that if there were areas where we could do much better in terms of trying to shine a light onto those dark areas about our health and our makeup then we ought to do it," he said.
Cameron, whose leadership was instrumental in the creation of Genomics England and its work to sequence 100,000 genomes, reflected on Britain's history of innovation in genomics as home to Francis Crick, Frederick Sanger, and scientific powerhouse universities like Oxford and Cambridge. He thanked Illumina for its partnership in the 100,000 genomes project and described how Britain, as a country with a national health system, can bring together patient data with genomic sequence information to better understand health and disease. He said he hoped that the project would lead to the development of personalized treatment approaches that would improve health outcomes worldwide for patients with diseases both common and rare.
"We should be able to draw together amazing data to go with the genomic information, about lifestyle, about treatment, about progression, that will really help us to crack the great diseases of our lifetime," he added.
Looking to the future, Cameron shared optimism for the opportunity for Illumina's technology to make a positive impact in the world as it can be used to tackle diverse problems from antibiotic resistance to drug development.
Illumina employees were excited to hear from Cameron and asked questions about how to improve rare disease advocacy, how research and development monies could spur innovation, and the global geopolitical landscape.