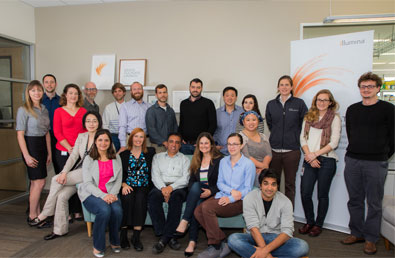 30 July 2015
One company is pioneering advances in drug discovery. Another is transforming the way cancer is identified and tested. A third is improving the health of dairy cattle and reducing the need for small molecule antibiotics in agriculture.
The inaugural startups recently graduated from Illumina Accelerator, the world's first business accelerator charged with helping launch genomic companies and building the genomics innovation ecosystem. After joining Illumina Accelerator in fall 2014, the three startups—Encoded Genomics, EpiBiome, and Xcell Biosciences —recently completed their six-month funding cycle.
"Our startups are given access to our best-in-class sequencers, a support team of genomics professionals and entrepreneurial coaches, and the tools they need to accelerate breakthrough applications in genomics," said Amanda Cashin, Ph.D., who leads the Illumina Accelerator. "We selected highly skilled founders and help them drive value for their genomics startups."
After their six-month cycle, the startups shared their experience as the first graduates of Illumina Accelerator, and what is in store for them next. The first class of Illumina Accelerator graduates are:
Encoded Genomics, Inc., a therapeutics company, is harnessing the power of the human non-coding genome and next-generation sequencing to create highly selective molecular therapeutics.
EpiBiome, Inc., a precision microbiome engineering company, is using next-generation sequencing to understand complex microbial communities, with its first product focus on developing bacteriophage cocktails to treat and prevent mastitis infections in dairy cattle.
Xcell Biosciences, Inc., a tools and diagnostics company, is combining its proprietary primary cell culture technology with next generation sequencing to commercialize its novel high-content liquid biopsy platform to transform the cancer genetic testing market.
What resources did your startup maximize while at Illumina Accelerator?
EpiBiome, Inc. The intellectual resources have been incredible, especially the business advice we received from Illumina's CTO, Dr. Mostafa Ronaghi, as well as technical advice from Illumina's senior scientists. The lab space is state of the art and well equipped. Having access to the sequencers has been a huge benefit. We've used these resources to develop some new reagents that dramatically improve our ability to accurately and quantitatively characterize the microbiome.
Also, the number of investors and companies we've been introduced to through Illumina Accelerator expedited our fundraising and business development efforts to the point that we just had to hold on for the ride.
Xcell Biosciences, Inc. We benefited in several areas of our business, including the ability to quickly and cheaply generate a significant volume of genomic and transcriptomic data from our enriched circulating tumor cell populations. We also benefited from access to capital, both from Boost Capital and the broader VC community, which has enabled us to rapidly accelerate our business.
Encoded Genomics, Inc. By tapping into Illumina's incredible technologies and business networks, we have fundamentally shifted the trajectory of our company. We look forward to a long-term relationship with Illumina, leveraging the power of genomics to create superior therapeutics.
What are some of your accomplishments during the six-month funding cycle?
Encoded Genomics, Inc. During our six months at Illumina, we formed a single-digit million-dollar partnership with a large pharmaceutical company, generated 15 TB of sequencing data, and advanced our internal pipeline programs.
EpiBiome, Inc. We refined our sequencing workflow and mastered our genomics platform. We also closed a very successful and oversubscribed seed funding round! We wouldn't have been able to do any of this without the support that we've received from Illumina.
Xcell Biosciences, Inc. Illumina's deep genomics expertise and market insights helped enable Xcell to expand our primary focus from the research market into the clinical market. We just completed a private investment round, and we're expanding the team rapidly to manage sample flow from a number of newly initiated clinical trials.
What's next?
Xcell Biosciences, Inc. We're continuing to advance our technology's capability beyond biomarker discovery and lead evaluation to enable diagnosis and monitoring a patient's disease from a small blood draw, in order to look for real-time unpredicted changes in the disease over time that may be indicative of resistance or response to a drug. We're located within the Bayer CoLaborator in Mission Bay, San Francisco.
Encoded Genomics, Inc. We continue to integrate therapeutics and genomics at our new labs in South San Francisco.
EpiBiome, Inc. We're settling into our new home in JLABS in South San Francisco, and we continue to advance our proprietary approach towards tackling the roughly $35 billion global cost of mastitis infections to the dairy cattle industry.
Applications are due on September 1, 2015 for Illumina Accelerator's fall 2015 funding cycle. To learn more and apply, please visit www.illumina.com/accelerator.