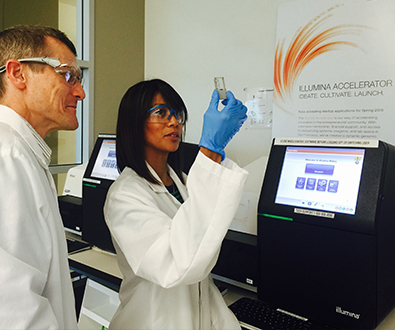 26 July 2017
Illumina Accelerator, the first business accelerator focused on creating an innovation ecosystem for early-stage genomics startups, welcomes five new companies to its sixth funding cycle. Illumina Accelerator helps startups validate and create next-generation sequencing applications and bring those products to market. During the six-month funding cycle, Illumina Accelerator offers capital and access to capital, genomics and sequencing expertise, business coaching, as well as lab and office space in the San Francisco Bay Area.
The sixth class includes:
Checkerspot, Inc., an advanced materials company, is designing and commercializing the next generation of high performance materials enabled by biotechnology and chemistry.
Chimera Bioengineering, a biotherapeutics company, is building RNA-based gene regulatory systems to control engineered cell therapies (such as CAR-T) for oncology.
Encompass Bioscience, Inc., a digital health company, is focused on providing a precision medicine solution integrating genetic information into healthcare to tailor treatment to each patient.
Mantra Bio, Inc., a drug discovery company, is building a proprietary exosome intelligence platform to discover new drug targets and therapeutics for immunotherapy.
Solarea Bio, Inc., a microbiome therapeutics company, is building a discovery and development platform for next-generation probiotic treatments derived from natural sources to benefit human health and nutrition.
"Illumina Accelerator provides important resources for entrepreneurs focused on scientific and commercial sequencing applications," said Mostafa Ronaghi, Ph.D., Illumina's Senior Vice President and Chief Technology Officer and co-founder of Illumina Accelerator. "Together with our graduates as well as our newest class of startups, we're working to advance breakthrough applications in genomics including therapeutics, diagnostics, and direct-to-consumer applications."
Illumina Accelerator provides the selected startups access to seed investment through accredited investors through a convertible note. Additionally, through the $40 million Illumina Accelerator Boost Capital, startups have access to dollar-for-dollar match funding when they raise between $1 million and $5 million of qualifying capital. While at Illumina Accelerator, startups have access to fully equipped lab and office space so they can begin experiments on day one, using Illumina's sequencing systems and reagents. Also included is a subscription to Illumina's BaseSpace Correlation Engine and BaseSpace Cohort Analyzer, and Illumina's Clarity LIMS software. Companies receive advice and expertise to help guide their business and financing strategies, team building and beyond.
"We are proud to partner with Illumina in supporting the many talented and disruptive companies that have come through Illumina Accelerator," said Jennifer Friel Goldstein, Market Manager and Managing Director of Life Sciences at Silicon Valley Bank.
"Since our inception in 2014, Illumina Accelerator has invested in 18 startups working to advance breakthrough applications in genomics," said Amanda Cashin, Ph.D., co-founder and Head of Illumina Accelerator. "We're delighted to welcome our largest group of startups to date to our growing network of genomic entrepreneurs."
Applications for Illumina Accelerator's next cycle are due by September 1, 2017. For more information or to apply, click here.