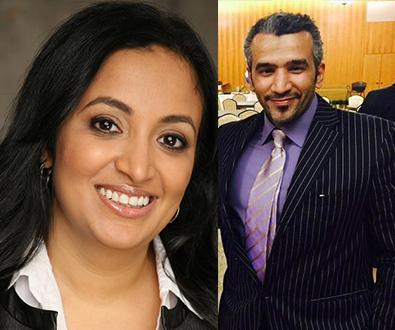 16 August 2016
Illumina Accelerator is the world's first genomics-based business accelerator focused on creating an ecosystem that provides resources for early-stage genomics companies. Now in its fourth funding cycle, Illumina Accelerator has expanded its already diverse pool of startups to include Center of Individualized Diagnostic (CID), the first-ever Illumina Accelerator Fellow, working to bringing cancer genomics diagnostics to Saudi Arabia.
Illumina Accelerator Fellow is a new partnership with international genomics experts and entrepreneurs to bring precision medicine and next-generation sequencing (NGS) capabilities to unique patient populations across the globe. Saudi Arabia, in particular, has a high burden of genetic disease, both in the form of severe inherited diseases and in common genetic diseases, including cancer.
CID is the brainchild of Malak Abed Al-Thagafi, M.D., and Ahmed Al-Bader, both born and raised in Saudi Arabia. Dr. Abed Al-Thagafi, a board certified, Harvard-trained pathologist and Al-Bader, an Oxford-educated entrepreneur with extensive experience in business development, started CID after recognizing the lack of public awareness and technical expertise in the field of genomics in their country. They realized that they needed additional resources, like those offered by Illumina Accelerator, to bring this vision to life and to help close the noticeable gap in the region.
"We launched Illumina Accelerator to lower the barriers to entry for entrepreneurs developing novel commercial sequencing approaches," said Mostafa Ronaghi, Ph.D., Illumina's Senior Vice President, Chief Technology Officer and co-founder of Illumina Accelerator. "Dating back to our first funding cycle, we've received applications from 28 different countries. We're thrilled to partner with the esteemed CID team to bring NGS to patients in Saudi Arabia."
Dr. Abed Al-Thagafi's passion for this project began long before her medical degree. She was born with an inherited genetic disease called congenital adrenal hyperplasia, a genetic defect that limits the adrenal glands' ability to make certain vital hormones, such as cortisol and aldosterone. These hormones are critical to life, as they help to increase blood sugar through gluconeogenesis, to suppress the immune system, and to aid in the metabolism of fat, protein and carbohydrates. She was diagnosed with the disease at the age of two, but only after her family took her to see a British physician who was visiting Saudi Arabia at the time. At the age of five, she traveled to London to have surgery to improve her condition. Thanks to diagnosis and intervention at an early age, she is able to manage her genetic condition today through continued hormone replacement therapy.
"It was the early 1980s, and there were no genetic clinics in the Kingdom. My personal experience as a patient with a genetic condition helped inspire and shape my career," said Dr. Abed Al-Thagafi. "When I was in medical school, the human genome project had just been completed, and that's when I heard about molecular genetics pathology. I knew I wanted to specialize in this field in order to help others."
Dr. Abed Al-Thagafi is also part of the team selected by King Abdulaziz City for Science and Technology (KASCT) to lead the Saudi Human Genome Project. The project's five-year goal is to identify genetic basis of disease in the Saudi population by utilizing NGS and bioinformatics to enable rapid, accurate and affordable diagnostic screening and treatment for patients.
"There's an extraordinary amount of advancement and opportunity in the field of genomics and NGS, but it hasn't yet carried over to Saudi Arabia," said Al-Bader. "We are working to bring the benefit of this important technology to our country and to improve lives, starting with cancer diagnostics. As an Illumina Accelerator Fellow, we're collaborating with Illumina to bring two nations together to address important health issues in the world. We see major interest from the government in the NGS field translated to massive projects by KACST and the National Transformation Program (NTP), as both are planning to enhance the Saudi health standards using the benefits of NGS."
"Every patient deserves a chance, and we want to show physicians and clinicians in our country that this is not only possible, but it's accessible. We want to improve the application of personalized medicine and targeted therapy, which can be utilized in the clinical management of cancer patients," Dr. Abed Al-Thagafi added.
Al-Bader says the CID team plans to take full advantage of the entire ecosystem Illumina Accelerator offers in the San Francisco Bay Area. "We're hoping to transfer what we learn back to Saudi Arabia to share how the most effective biotech startups should operate. That's why we have adapted the motto, 'Redefining the Impossible,'" he said.
"Illumina Accelerator helps drive value for entrepreneurs by providing unparalleled resources to advance genomics startups," said Amanda Cashin, Ph.D., co-founder and Head of Illumina Accelerator. "Over the six months, we try to check all the boxes, from how to build a company and team, to how to secure partnerships, to networking and go-to-market strategies. We're proud to partner with CID as part of our fourth class and help bring genomics to Saudi Arabia."
Illumina Accelerator is currently accepting applications for its next funding cycle. Applications are due by September 1, 2016. For more information and to apply, visit www.illumina.com/accelerator or Accelerator's LinkedIn page.