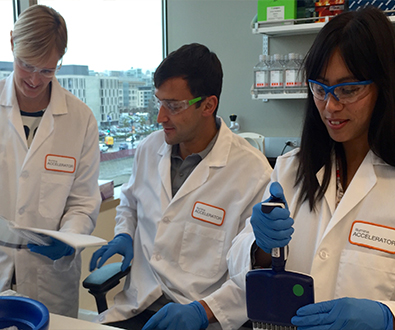 9 February 2017
Illumina Accelerator, the genomics-based company creation engine focused on building early stage genomics startups welcomes three new companies to its fifth funding cycle. Since its inception in 2014, Illumina Accelerator has helped startups validate and create next-generation sequencing applications and bring those solutions to market. To date, Illumina Accelerator has invested in 13 startups working to advance breakthrough applications in genomics.
The fifth class includes:
Coax Biosystems, Inc. – A synthetic ecology company using a proprietary platform to understand and engineer microbial community products, with first applications in improving crop protection and yield.
Resilient Biotics, Inc. – A microbiome therapeutics company using genomic technologies and intelligent analytics to develop antibiotic replacements for complex infectious diseases.
Haystack Sciences Corporation – A small molecule discovery company developing a proprietary platform to discover novel treatments for human disease.
"Illumina Accelerator's primary goal is to drive value for genomics startups by providing vital resources for entrepreneurs working on scientific and commercial sequencing applications," said Mostafa Ronaghi, Ph.D., Illumina's Senior Vice President and Chief Technology Officer and co-founder of Illumina Accelerator. "Our fifth investment class features companies that demonstrate the diverse impact of genomics and the increasingly broad range of human and agriculture applications in the industry."
During the six-month funding cycle, Illumina Accelerator offers capital and access to capital, sequencing and genomics expertise, coaching, and lab and office space in the San Francisco Bay Area. It provides access to seed investment through accredited angel investors through a convertible note. Additionally, through the $40 million Illumina Accelerator Boost Capital, startups have access to dollar-for-dollar match funding when they raise between $1 million and $5 million of qualifying capital. While at Illumina Accelerator, startups have access to fully equipped lab and office space so they can begin experiments on day one, using Illumina's sequencing systems and reagents. Also included is a subscription to Illumina's BaseSpace Correlation Engine and BaseSpace Cohort Analyzer, and Illumina's Clarity LIMS software. Companies receive business advice and expertise to help guide their business and financing strategies, team building and beyond.
"Over the six months, we try to check all the boxes in building a startup, from how to build a team, to how to develop a go-to-market strategy, to how to find and secure partnerships, networking and fundraising," said Amanda Cashin, Ph.D., co-founder and Head of Illumina Accelerator. "We're proud to have these three promising companies join our growing network of genomics startups."
Illumina Accelerator is currently accepting applications for its summer cycle. Applications are due by March 1, 2017. For more information or to apply, click here.