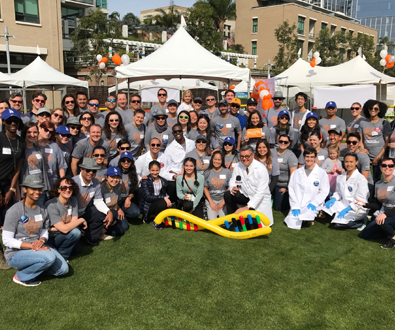 6 March 2017
"In most schools, teachings about genetics and genomics are fairly limited and provide only a basic introduction to the chemical structure of DNA and Mendelian inheritance patterns," wrote Illumina President and CEO Francis deSouza and in a recent op-ed published in the San Diego Union Tribune. "It's unfortunate that there aren't more educational resources directed toward genetics and genomics, especially in San Diego, because this is a field that is critically important to continuing our region's legacy of scientific innovation, contributing to responsible science policymaking and to the continued growth of our local economy."
An army of more than 100 Illumina employees volunteered to help the Illumina Foundation to try to change that. The group, which represented all parts of the company, welcomed thousands of San Diegans to engage with genomics at the Biocom Institute Festival of Science and Engineering's annual EXPO Day at Petco Park.
"We created the Illumina Foundation to ensure that there are more opportunities to further genomics literacy," noted Karen Possemato, VP of Marketing and Corporate Communications for Illumina, and the chair of the Festival's advisory board. "The Festival provides a great way to help members of the community connect with science and technology, learn about transformative fields like genomics and have some fun."
The Illumina Foundation transformed the miniature ball field in the Park at the Park, and welcomed visitors to experience a series of hands on demonstrations, and science-oriented activities.
New to the experience this year was a live action epidemiology game that invited visitors to respond to an outbreak of Dodger fever spotted in San Diego using conventional epidemiology skills and the latest genomics tools from Illumina. Visitors took on the roles of doctor, disease containment specialist, geneticist, field operator, or public health advisor, and made a series of choices to respond to contain the outbreak, develop and deploy a cure. As part of the game, everyone learned how easy it is to use a DNA sequencer to understand the genetics of an organism.
Others enjoyed learning about protein synthesis by turning their names into DNA codons represented by beads and strung onto necklaces and bracelets, and dressing up like a scientist with a lab coat, lab glasses, and a range of scientific props.