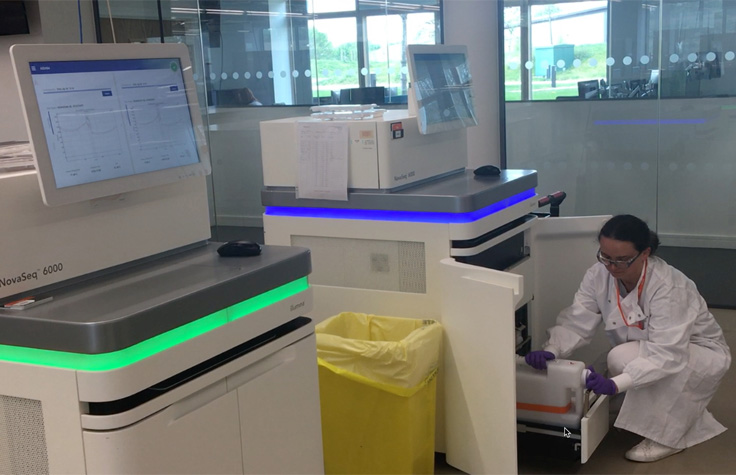 13 May 2020
The UK government announced a new human genome initiative aimed at uncovering genetic factors in susceptibility to COVID-19. The initiative is led by Illumina's long-term partner, Genomics England, which is working with the Genetics of Mortality in Critical Care (GenOMICC) consortium and the National Health Service (NHS). Illumina is extremely proud to provide sequencing for this effort and further our understanding of the pandemic through genomics.
Because the COVID-19 global pandemic is life-threatening for some, but not all people who are infected, reading the entire human genome may identify variations that affect each person's response to the virus. The study will compare the genomes of 20,000 patients from across the UK who have been admitted to intensive care with COVID-19. These genomes will be compared with those from the 100,000 Genomes Project and also 15,000 new genome sequences from patients with mild-to-moderate disease. Illumina will sequence all 35,000 genomes and share the cost in doing so.
Early last month the GenOMICC study was deemed one of the UK's National Institutes of Health Research Urgent COVID projects and has already recruited severely ill patients from multiple hospitals. This week's news will leverage Genomics England's expertise and facilities for human whole genome sequence analysis facilitated by University of Edinburgh, multiple NHS sites, and the Illumina Sequencing Labs. Results from the study will also be linked to the extensive data from the 100,000 Genomes project and UK Biobank, including any cases of COVID-19 in those participants. All of the data will be housed in secure data centers in the UK and made rapidly available to researchers.
This groundbreaking human genome research will help explain why some patients with COVID-19 experience a mild infection while others require intensive care, and why some patients still die despite heroic measures. However, other research efforts centered on sequencing the virus genome are also yielding vital clues to the pandemic. The GenOMICC / Genomics England study is linked to the parallel virus sequencing coordinate via the Sanger Centre (called the CoG-UK Consortium), which recently completed a milestone of 10,000 viral genomes sequenced.
Taken together, the UK's genomic research efforts comprising massive viral genome studies and world-leading population sequencing programs, will offer the world new resources to more deeply understand COVID-19 and inform strategic planning and rapid response for future epidemics and pandemics.