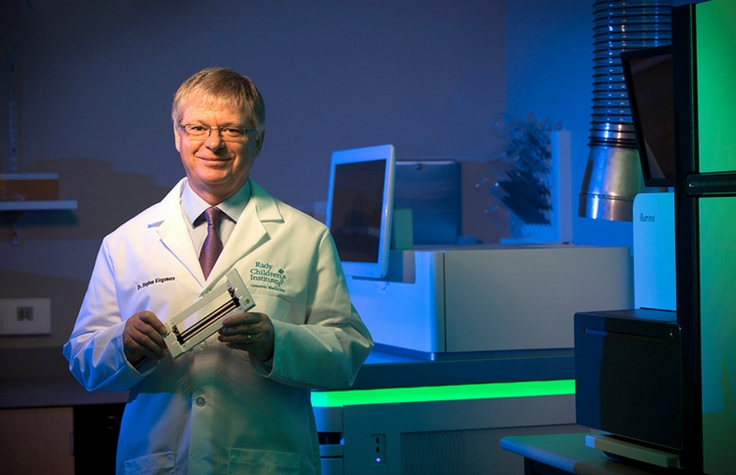 12 February 2018
In January 2017, Illumina launched the NovaSeq 6000 Sequencing System. With unmatched scalable throughput, tremendous flexibility for a range of applications, and streamlined operation, the NovaSeq 6000 is the most powerful high-throughput Illumina sequencing system to date. It is uniquely positioned to help users discover more about the genome than ever before.
Today, the Company launched the highly anticipated S1 flow cell to provide faster sequencing runs and additional flexibility to meet study needs, enabling smaller sample runs and same day turn-around for most high-throughput applications. By delivering similar output levels and number of reads as HiSeq instruments, the S1 flow cell offers current HiSeq customers a smooth transition to NovaSeq 6000, and facilitates faster runs and more cost-effective sequencing.
"Customers have routinely requested more flexibility to do their research the way they want to," shared Joel Fellis, director, product marketing, sequencing systems at Illumina. "The S1 flow cells serve our customers' needs more effectively. So now, customers no longer have to wait to accumulate a certain number of samples before a run, which can maximize efficiency without sacrificing cost."
"The S1 expedites filling the flow cell, making it amenable to smaller scale, time sensitive work," said Bob Fulton, director of project development and management at The McDonnell Genome Institute at Washington University. "The flow cell size enables the rapid turnaround of a small number of whole genomes, pools of targeted work, RNA-Seq, or a combination of the three."
"The power of NovaSeq 6000, coupled with the speed of the S1 flow cell, are accelerating the delivery of genomic insights and the power of genomic medicine," said Dr. Stephen Kingsmore, president and CEO of Rady Children's Institute for Genomic Medicine. "In the neonatal intensive care unit, every minute matters. The ultimate goal of our research is to develop a scalable solution where neonatal specialists working 24-hour shifts will have the advantage to receive same-day results, enabling immediate personalized treatment."
The NovaSeq 6000 offers tremendous flexibility in sequencing options, supporting an extensive range of applications. Users can mix and match between three flow cell types (S1, S2 or S4), run one or two flow cells at a time and choose between multiple read lengths to easily adjust output and sample throughput for each sequencing run.
To learn more about the advantages of the NovaSeq and the S1 flow cell, please visit www.illumina.com/NovaSeq.
For Research Use Only. Not for use in diagnostic procedures.
Forward-Looking Statements
This release contains forward-looking statements that involve risks and uncertainties. Examples of forward-looking statements include, but are not limited to, statements we make regarding the expected availability dates for new products and services and FDA submission dates and intentions for certain products and services. Important factors that could cause actual results to differ materially from those in any forward-looking statements include challenges inherent in developing, manufacturing, and launching new products and services, and the other factors that are detailed in our filings with the Securities and Exchange Commission, including our most recent filings on Forms 10-K and 10-Q, or in information disclosed in public conference calls, the date and time of which are released beforehand. We do not intend to update any forward-looking statements after the date of this release.
*Photo Credit: Earnie Grafton