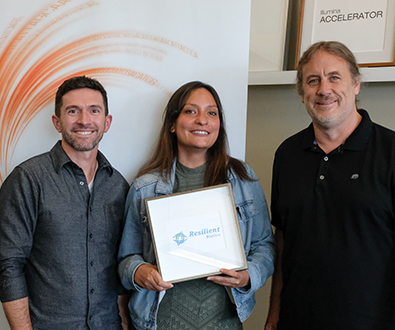 25 July 2017
Resilient Biotics, Inc. is utilizing big data analytics to design microbiome-based therapeutics and advanced screening methods for prevention and treatment of deadly infectious diseases, with an initial focus combating respiratory disease in livestock animals. Resilient's goal is to provide more effective treatment strategies while reducing the livestock animal industry's current dependency on antibiotics. The company recently graduated from Illumina Accelerator's fifth class. Resilient Chief Executive Officer and Co-founder Christopher Belnap, Ph.D. talks about the importance of the microbiome, working to change the agricultural industry and the company's experience during its six months at Illumina Accelerator.
How did Resilient come about and what are you currently focused on?
The microbiome plays an important role in the health of humans and animals alike, but we still don't fully understand exactly how beneficial microorganisms interact with harmful pathogens and the host. In starting this company, we wanted to apply deep genomic sequencing to microbiome-host systems at higher resolution than what has been done in the past, and use that approach to predict functional interactions between pathogens, commensal microbes and host cells.
What is the unmet need that Resilient is targeting and why is it important?
Through studying the human microbiome over the last several years, we've learned that the right microbial community can inhibit pathogens from causing a disease. In livestock animal production, there aren't adequate preventative therapeutic options for some of the most economically impactful diseases. Therapeutic approaches focusing on optimizing the microbiome could help provide additional preventative solutions to combat livestock diseases, and ultimately reduce the use of antibiotics to treat sick animals.
We've chosen to focus our efforts on respiratory diseases, which are common in all livestock animals, and cause multi-billion dollar losses to cattle, swine and poultry producers. At Resilient, we're using our genomic platform to characterize respiratory microbiome communities to develop a microbial therapeutic that can be directly applied to the respiratory tract to help stop those outbreaks from occurring in the first place. Producers will then use fewer antibiotics, and they'll save money on sick animal management.
How did you hear about Illumina Accelerator and what made you apply?
We saw the success of previous Accelerator graduates such as Epibiome and Xcell, and quickly recognized how valuable Illumina Accelerator is to genomic-focused start-ups. We applied at a time when we were starting Resilient from the ground up and we needed sequencing resources that would help us build our database and bioinformatic discovery platform. Another important factor was the coaching and expertise from the Illumina Accelerator team, which has also been instrumental to our growth as a company.
What was Resilient's key focus during your time at Illumina Accelerator?
Our primary focus was to take advantage of the sequencing resources. We literally sequenced as many samples as possible in the six months, which has allowed us to build the most comprehensive bovine respiratory disease database in the world. Current data on genomic variation of pathogens and non-pathogen organisms that colonize the respiratory tracts of cattle is sparse. We've leveraged our genomic database and in-house bioinformatic platform to characterize these pathogens, as well as the beneficial micro-organisms and hosts. Ultimately, our goal is to identify organisms that help inhibit harmful pathogens and promote a beneficial immune response by the host.
What's next for Resilient now that you've graduated from Illumina Accelerator?
We're continuing work in the lab to validate the therapeutic candidates that we've identified from our time at the Accelerator. One of the advantages to working in animal health is that we can design, test and commercialize products quite rapidly compared to human health. Our goal is to be testing our therapeutic candidates in the field in 2018. We will be looking to build our team with top talent in molecular biology, microbiology and bioinformatics over the coming months. We'll also continue to work on therapeutic discovery for other livestock applications, as our platform and approach is transferrable to many types of diseases where the microbiome plays a role.
Illumina Accelerator is currently accepting applications for its seventh funding cycle. Applications are due by September 1, 2017. For more information or to apply, click here.