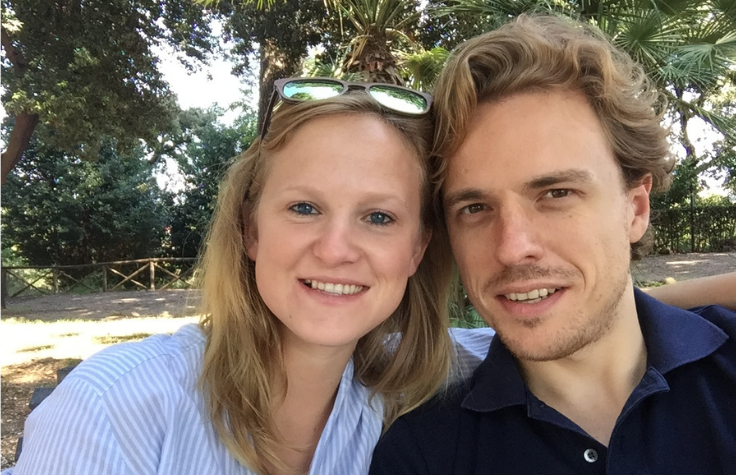 24 September 2021
"Cancer of unknown primary (CUP) is a diagnosis in itself and doctors will tell you it's not 'unknown', just that we can't find the primary," says Tanya Knott, director of the Sarah Jennifer Knott (SJK) Foundation, Ireland, who founded the organization after her sister, Sarah, died from CUP at the age of 31. "After a tumor was found in her uterus and then one in her neck, my sister experienced several diagnoses—it wasn't until three months after her first presentation, and multiple diagnostic tests, that she was diagnosed with cancer of unknown primary."
The SJK foundation promotes awareness, education, and research of CUP. The foundation, together with groups in the Netherlands and UK have spearheaded the 2021 launch of the first-ever CUP World Awareness Week this week (20-26 September). The campaign website provides information on CUP and is hosting daily webinars running throughout the week, where CUP experts from around the world are giving presentations.
The long journey to diagnosis
CUP is a complex disease in which cancer cells are found in the body but the origin of the cancer is unknown. The patient journey can be a long one, often involving a series of physical examinations and blood tests, tumor biopsies, and imaging using PET, CT or MRI, to try and detect the primary origin of a patient's late-stage or metastasized cancer. The rigmarole and challenges involved in searching for a primary, the uncertainty of diagnosis and lack of access to treatments all take their toll on CUP patients.
While treatment is based on the primary cancer, sometimes the primary tumor is never located because it may be very small and growing slowly, or it may have been killed by the immune system. Treatment approaches are then limited to broad-acting chemotherapy as standard of care, but radiotherapy, hormonal therapy and sometimes surgery may also be used.
Nearly three to five percent of all cancers are cancer of unknown primary, which makes CUP the fourth most common cause of death from cancer worldwide. Such cancers have a poor prognosis and progression is often rapid—83 percent of CUP patients in the Netherlands die within a year.
In June 2018 Warnyta Minnaard's partner, Hederik de Vries (pictured above) started experiencing double vision in his right eye. Just 32 years old, he was referred to a neurologist by his ophthalmologist, and after a CT scan, a brain lesion was found. Because Hederik was young, fit and healthy, no biopsy was deemed necessary yet, and the cause was assumed to be an autoimmune disorder or a viral infection. There was no reason to suspect anything sinister. After six long months of referral appointments, countless scans and blood tests, Hederik received the news that he had CUP.
"This diagnosis came totally out of the blue—we were in shock. By now it was now Christmas Eve and Hederik was in excruciating pain, so it was decided that he should be given his first chemotherapy session as soon as possible," explains Minnaard. "But within 30 minutes of receiving the therapy, he collapsed—his sudden death was unexpected, there was no time to say goodbye and I wasn't prepared for that."
The loss of her partner spurred Minnaard to set up Missie Tumor Onbekend (Mission Tumor Unknown) in the Netherlands, to put CUP under the spotlight by facilitating patients to tell their individual stories and provide a face for their suffering.
Transforming prognosis with genomics
Now, the long journey in the search for a primary, with the endless tests and scans could be resolved for some people with CUP in the Netherlands. Earlier this year the Dutch Healthcare Authority (Nederlandse Zorgautoriteit, NZa) announced that whole-genome sequencing (WGS) would be reimbursed for those patients with metastasized cancer where the primary tumor cannot be located.
This reimbursement decision was helped thanks to the unrelenting efforts by Inspire2Live, an international platform of patient advocates, together with Missie Tumor Onbekend, the Dutch Association of Medical Oncologists (NVMO), the Dutch Association of Pathologist (NVVP), the Hartwig Medical Foundation in Amsterdam, health insurance companies (Zorgverzekeraars Nederland), and the Dutch Federation of Cancer Patient Organisations (NFK).
A pivotal consideration in the decision was the WIDE (Whole-Genome Sequencing in Diagnostics for Every Cancer Patient) study—a collaboration between the Hartwig Medical Foundation, the Netherlands Cancer Institute (NKI) and Utrecht UMC Academic Hospital. The study investigated the implementation of WGS in 1,200 patients at the NKI as part of routine practice.
The results showed that WGS provides an improved and faster diagnostic and treatment pathway. Such genomic profiling makes it easier to trace the primary cancer, gaining insight on the presence of possible 'targets' for drug treatment—also known as precision medicine, where an individual's genetics determine the treatment plan.
The study also builds on recommendations that consider next-generation sequencing important in guiding therapeutic decision-making in CUP because it offers the chance of identifying a subgroup of patients who have actionable genomic aberrations that may respond to precision medicines. And at this week's European Society for Medical Oncology (ESMO) Congress, a team of researchers is presenting data from a Phase 2 randomized study (CUPISCO) which suggest that looking at a full range of genetic mutations and biomarkers simultaneously in CUP samples, so called comprehensive genomic profiling, can identify therapeutically relevant genetic alterations in a significant proportion of patients, offering a guide to personalized treatment of these tumors.
"Although it came too late for Hederik, the reimbursement of WGS is a giant step for the 1,500 people in the Netherlands who are affected by CUP each year, and who have the largest unmet needs," says Minnaard. "Those with CUP just don't have the time needed for broader molecular diagnostics—WGS can possibly remove the uncertainty of a diagnosis, guide patient treatment and improve prognosis."
"Those with CUP just don't have the time needed for broader molecular diagnostics—WGS can possibly remove the uncertainty of a diagnosis, guide patient treatment and improve prognosis."
Access to WGS in the Netherlands is done through a personal request from a patient's oncologist to one of several centers that offer it. After Inke, aged 52, discovered a lymph node swelling earlier this year, her doctor suggested a 'wait and see' approach. After a month, she was referred to hospital for blood tests and biopsy, where cancer in the lymph nodes was confirmed, but the origin remained a mystery
"That was when I learned a new term—Cancer of Unknown Primary," says Inke. Eventually, a referral to a specialist CUP clinic in Amsterdam was arranged, where the latest advances in cancer testing are changing the outlook for patients. "Without the WGS test, there would have been no complete diagnosis, it was only by sequencing the metastatic cancer cells in my lymph system could the doctors conclude that I most likely had cancer of the cervix, even though I showed no obvious signs." Plans to proceed with a specific course of therapy then began.
While the two-month wait for a diagnosis felt like an eternity at the time, Inke says she feels lucky to have had access to testing and treatment. "When you're waiting for something to happen, it's really difficult, there's so much uncertainty involved," she says. 'I know not everyone has been lucky enough to have the tests and treatment that I had, but by speaking about this, I hope it will help more people to access the right care for CUP."
Making CUP agnostic
"A diagnosis of cancer is always devastating news, but people can relate more easily to say, 'breast cancer' or 'lung cancer' as there is a definite diagnosis and defined experience, but CUP presents unique psychological challenges for patients and their families," says Knott.
"This uncertainty over the cancer origin from an initial diagnosis of CUP presents a totally different experience—it has become a subcategory cancer and we need to think about it agnostically—it doesn't matter where it started, CUP is a problem and WGS is the answer."
It is vital that more and more health authorities begin to understand the role of WGS in extending a cancer patient's life span as well as improving the patient experience, and how it can reduce overall healthcare costs associated with CUP diagnosis. Too many people still lose their lives. But tomorrow brings the opportunity for every cancer patient to be offered WGS as part of routine diagnostics, with treatments based on the genomics of their tumors.
Towards a new future in oncology
Illumina is dedicated to championing the needs cancer patients and communities. Through patient advocacy efforts, education, and evidence based clinical and economic utility development for increased payer coverage, Illumina is working to increase access to whole-genome sequencing. Each initiative or project is strengthened by our commitment to developing and delivering on the promise of precision medicine.
Learn more about WGS and molecular profiling in CUP here.