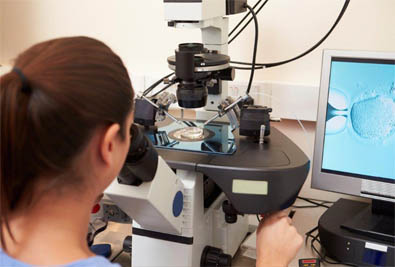 28 July 2015
Fertility procedures have advanced significantly since the first so-called "test tube" baby was conceived in 1978. Initially, the in vitro fertilization (IVF) methods used to fertilize human eggs in a laboratory and transfer the embryos into a woman's uterus for implantation, were frightening to the public. As more children were born through IVF, people grew to accept the procedure. IVF is now a proven method for overcoming infertility, changing the lives of millions of women and their families.
At its simplest, the process involves stimulating the ovaries to produce multiple eggs, collecting and fertilizing those eggs, selecting good quality embryos, and transferring them into the uterus for implantation. To achieve the best outcome—carrying a pregnancy through to delivery—it is important to identify the most viable embryo for implantation. Thanks in part to array screening and next-generation sequencing (NGS) technologies, the process has evolved over the years to allow doctors to examine and select the embryo that is the most viable genetically and therefore most capable of resulting in a successful pregnancy.
Don Leigh, PhD, Principal Scientist at Genea, a leading company specializing in fertility and IVF treatment, discusses IVF technology advancements and how these new methods are lowering the cost of IVF for its customers. Click here to read his interview.