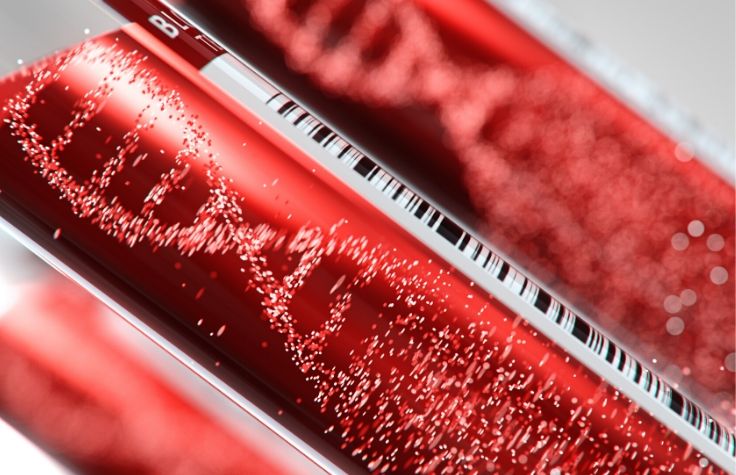 24 April 2020
Bringing comprehensive genomic profiling (CGP) one step closer to the standard of care in oncology, Illumina is now shipping TruSight™ Oncology 500 ctDNA (TSO 500 ctDNA), our first liquid biopsy solution for detecting cancer biomarkers, and TruSight Oncology 500 High-Throughput (TSO 500 HT), enabling high-throughput implementation by large labs with high-volume tissue sample needs. TSO 500 ctDNA and TSO 500 HT provide labs with the flexibility to run tissue or blood plasma samples on a single high-throughput platform, the NovaSeq™ 6000 Sequencing System. These two new additions join the TruSight Oncology 500 (TSO 500) family – the tissue-based version of the assay, which is optimized for both the NextSeq 550 and NextSeq 550Dx Systems (in research mode). TruSight Oncology 500 products are currently intended for research use only (RUO).
TSO 500 ctDNA enables non-invasive, comprehensive genomic profiling of circulating tumor DNA (ctDNA) when tissue testing is not optimal, or to complement tissue-based testing. TSO 500 ctDNA is one of the first liquid biopsy assays to enable comprehensive genomic profiling that interrogates the sequence of 523 genes in key cancer-related pathways, including single-nucleotide variants (SNVs), indels, copy-number variants (CNVs), fusions, microsatellite instability (MSI) and tumor mutational burden (TMB).
We believe in the advancement of personalized medicine guided by molecular-based testing to improve patient outcomes.
Optimized for the NovaSeq 6000, TSO 500 ctDNA offers both the economic value and the scale of sequencing needed to properly interrogate ctDNA at levels of sensitivity and specificity that NGS provides. Complementing TSO 500 ctDNA on the NovaSeq 6000 is TSO 500 HT, providing large labs the ability to perform CGP analysis of up to 192 FFPE samples at a time, in a single NovaSeq sequencing run. Additionally, the two assays offer comprehensive coverage including a majority of the known and anticipated biomarkers associated with guidelines and clinical trials.
"We believe in the advancement of personalized medicine guided by molecular-based testing to improve patient outcomes," said Margot P. Schoenborn, CEO of OmniSeq, Inc. "TSO 500 HT gives us the scalability to process a large number of samples every week, in that we can batch from 16 to 192 samples in a single run on the NovaSeq. Having the flexibility to run multiple flow cell options will enable us to optimize sequencing runs based on large volumes and flexibility to meet the turnaround time requirements of our customers."
By offering solutions that independently interrogate both tissue and liquid biopsies on the NovaSeq 6000, Illumina's TSO 500 portfolio offers a complete solution of in-house assays that enable quality comprehensive genomic profiling, providing customers with:
Flexibility and efficiency to deploy the same oncology panel, on the same sequencing platform, regardless of sample type
Ability to run comparability of results in tissue and blood from a single individual, or across individuals
Scalability to meet high-throughput lab requirements
"Comprehensive genomic profiling on the DNA- and RNA- level will play an increasing role for cancer precision medicine," said Professor Albrecht Stenzinger, MD, from the Institute of Pathology at University Hospital in Heidelberg, Germany. "There is a growing number of drug targets, as well as an emerging landscape of resistance mechanisms, that will make large panels, which I define as panels with more than one megabase genomic footprint, not the exception, but the norm. High quality data with low TAT will be crucial in this context," he concluded.
Offering an impressive sample-to-answer workflow, with a five-day turn-around time
Secondary analysis of large liquid biopsy CGP panels can be challenging. To address this issue, TSO 500 ctDNA utilizes the Illumina DRAGENTM (Dynamic Read Analysis for GENomics) Bio-IT platform to provide accurate and ultra-rapid secondary analysis of sequencing data. TSO 500 ctDNA leverages the combination of the DRAGEN Bio-IT server hardware and DRAGEN TruSight Oncology 500 ctDNA Analysis Software to offer an accelerated, easy-to-implement, fully integrated set of bioinformatics algorithms to overcome ctDNA challenges and ensure optimal assay performance. This is important because it provides robust and accelerated comprehensive variant calling, at very low limits of detection, in a single solution.
We believe this large panel and powerful analysis platform will enable our clients to effectively develop exciting new biomarkers for novel therapeutics.
Dr. Steven Walker, Head of Product Development, Almac Diagnostic Services said: "This innovative product from Illumina will enable Almac to provide pharmaceutical and biotech companies with a new liquid biopsy option to support their translational research, clinical trials and CDx development. The assay, based on the TSO 500 platform, allows the mutational assessment of 523 genes from a single liquid biopsy sample. Integration of the Illumina DRAGEN™ Bio-IT platform into the workflow will help to significantly reduce the turnaround time for complex data analysis for our clients."
He continued: "Almac sees this product as a key component in our broad range of biomarker solutions. From the pharma or biotech perspective, this platform will enable biomarker discovery and testing from non-invasive samples, rather than typical tumor biopsy-based methods which can be challenging. We believe this large panel and powerful analysis platform will enable our clients to effectively develop exciting new biomarkers for novel therapeutics."
The TSO 500 menu, including TSO 500, TSO 500 ctDNA, and TSO 500 HT, offers the PierianDx streamlined clinical genomics report, from their Clinical Genomics Workspace™ platform. Powered by a comprehensive Clinical Genomics Knowledgebase, the PierianDx platform immediately provides a draft clinical genomic report. The solution also provides customers with the ability to research, edit, determine additional variant significance, and sign-out a final annotated clinical genomic report. The combination of Illumina's comprehensive tumor profiling assays coupled with DRAGEN and the PierianDx variant interpretation and reporting solution, provides customers with a seamless and semi-automated workflow, from sample to final report.
Read Illumina Chief Medical Officer, Phil Febbo's, perspective on the power and promise of liquid biopsies, here.