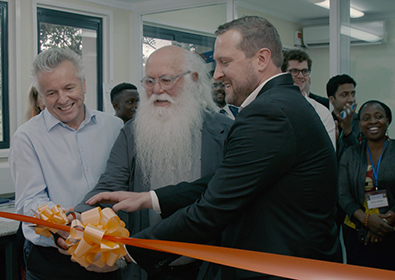 31 May 2017
Illumina has donated one of its most powerful sequencers, the HiSeq 4000 Sequencing System, to enable the African Orphan Crops Consortium (AOCC) to complete its crop sequencing project. The donation builds on the Illumina Agricultural Greater Good Sequencing Grant Program award Illumina provided in 2015 to support sequencing the genomes of crop species commonly grown on small plots in Africa. In addition to the 101 crop species being sequenced, the instrument, which is housed at the World Agroforestry Center (ICRAF) in Nairobi, will be used with the African Plant Breeding Academy to train additional seed breeders in Africa on how to use genomics to increase nutrition and crop yields.
"Illumina sequencing technologies can be used in a myriad of ways to help more people gain access to a safe, nutritious, and adequate food supply," said Ryan Rapp, Associate Director for Agrigenomics at Illumina. "What's so impressive about AOCC is that their work isn't theoretical or academic. They are focused on the crops most likely to be consumed by people affected by hunger and poverty in Africa. In addition, they are working with seed breeders to provide genomics education and, ultimately, to get the best seeds into the hands of those who need them to provide sustenance to their families."
Illumina distributor Alliance Global (AGBL) installed the system, which is already being used to sequence crops such as okra, breadfruit, yams, and the African potato.
"We feel so fortunate to receive this HiSeq 4000 System to complete our ambitious goal of sequencing 101 species of trees, vegetables, and legumes grown by average citizens trying to feed their families," said Howard-Yana Shapiro, Founder of the AOCC and Chief Agricultural Officer at Mars, Incorporated. "Conditions related to malnutrition, including stunted growth and cognitive impairment, are believed to affect 35-40 percent of the children in Africa. We believe that our work can help improve the food supply and ultimately benefit communities in need."
About the Greater Good Initiative
Since 2011, the Illumina Agricultural Greater Good Sequencing Grant Program has awarded grants of Illumina products to researchers using Illumina technology to tackle diverse genomics-oriented projects aimed at alleviating global hunger, malnutrition, and poverty in the developing world. Supported research projects have spanned the globe and the spectrum of scientific discovery improving studies of agriculturally important plants and animals that are commonly consumed by food insecure populations.
2018 Grant Application Program Details
Researchers are invited to submit research proposals for grant consideration by December 8, 2017. The winner will receive sequencing consumables needed to produce 20 Tb of data to support his or her project. Proposals will be judged based on scientific merit, innovativeness, and fit with the goals of the Illumina Agricultural Greater Good Sequencing Grant Program. The winner will be announced at the International Plant and Animal Genome Conference in San Diego, California in January 2018.